i welcome any inquires
646.274.0931
noah@noahlandow.com

current collections:
control (new)
ligament
branch
mech
irony

what to put where:
ears
necks
wrists
fingers
clothes
tables
keys

odds and ends:
last few pieces to join
past ponderings
it takes a team

navigate the store:
go straight there
review your basket
buy your basket
ask the oracle:
monkey small brass
given as a chinese new years gift to clients and friends by the folks over at macktez, this tiny brass monkey is helping bring in the year of the monkey in style. carry him around as a charm, or present him (in a red envelope?) to the people you wish good fortune in coming months.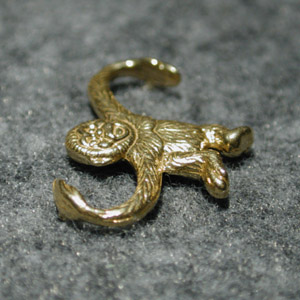 according to some sources this is a green monkey year. leave this li'l monkey in a damp environment and he'll be green by years end, no doubt.

weight: 3.41 grams (0.12 ounces)
length: 2.6 centimeters (1 inches)

item cost: $8




you may also be interested in this fella's equally li'l silver brother or his much bigger brother.
item number: 10145
added on 01/27/2004/00:36
do you have any questions, inquiries, lustful desires, comments, or criticisms (or orders to place, i should add)?