i welcome any inquires
646.274.0931
noah@noahlandow.com

current collections:
control (new)
ligament
branch
mech
irony

what to put where:
ears
necks
wrists
fingers
clothes
tables
keys

odds and ends:
last few pieces to join
past ponderings
it takes a team

navigate the store:
go straight there
review your basket
buy your basket
ask the oracle:
gun black hole sentry
do you wish to wield the same laser weapon as the s.t.a.r. and sentries from the black hole? this, then, is most certainly one of your last chances as the ghost ships steer madly toward the point of no return.


weight: 6.67 grams (0.24 ounces)
length: 3.1 centimeters (1.2 inches)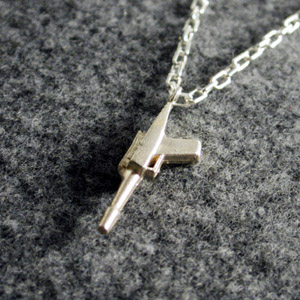 item number: 10109
added on 11/30/2003/18:13
do you have any questions, inquiries, lustful desires, comments, or criticisms (or orders to place, i should add)?