i welcome any inquires
646.274.0931
noah@noahlandow.com

current collections:
control (new)
ligament
branch
mech
irony

what to put where:
ears
necks
wrists
fingers
clothes
tables
keys

odds and ends:
last few pieces to join
past ponderings
it takes a team

navigate the store:
go straight there
review your basket
buy your basket
ask the oracle:
gun tiny revolver earrings
our dear childhood hero the lone ranger and his hi ho silver carried (or, more accurately, his tiny toy self carried) this teeny tiny revolver. who was that masked man?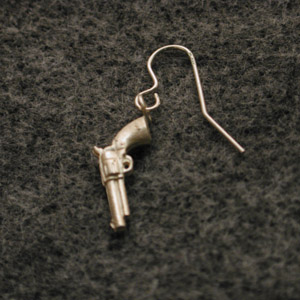 weight: 3.57 grams (0.13 ounces)

length: 2 centimeters (0.8 inches)
item number: 10107
added on 11/30/2003/18:14
do you have any questions, inquiries, lustful desires, comments, or criticisms (or orders to place, i should add)?